I am totally obsessed with Crystals at the moment, perhaps it's because they look so pretty, raise positive energy, have a healing ability, are on IT GIRL trend, an all natural product, whatever it is I am totally addicted to this year's Crystal Beauty Wellness Skincare Trend.
I am loving all kinds of things from Crystal Rose Quartz Facial Rollers, Crystal Inspired skincare and now Crystal Water Bottles.
Crystal Elixir Water Bottle by Glance at Free People was created to add positivity and purification into your daily routine by using the all-natural, energising effects of raw crystals.
A pure crystal stone is firmly fastened inside each glass bottle, creating an elixir that supports revitalization and clarification of the mind and body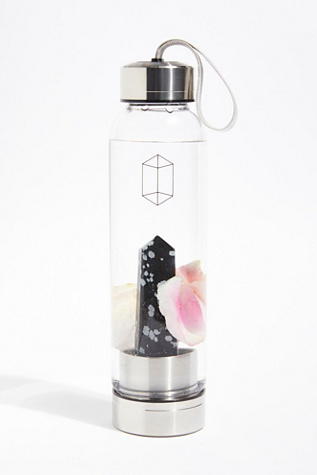 Rose Quartz: The stone of unconditional love. It harnesses the feminine energy of compassion, love, peace, tenderness, healing and nourishment.
Amethyst: The stone of balance and protection. It harnesses the energy of creativity, spirituality, and passion.
Smoky Quartz: The stone of grounding, relaxation, protection and power. Smoky quartz elixirs are perfect for the ambitious and are known to help relieve anxiety.
To use the Crystal Elixir Water Bottle by Glance at Free People you fill it with room-temperature water.
It is believed that every time you sip water energised by your crystal, your intention will flow through your body and become more powerful.
How did this Crystal Elixir Water Bottle by Glance at Free People  all start? From the Founders Dream whilst she was actually asleep in bed. During college, the founder started drinking water out of mason jars with free floating crystals at the bottom.
When she woke from her dream with the design for Glance Bottles, she started making a prototype right away. She was enchanted with the exact vision she saw in her head and now, after many prototypes, that vision has finally manifested into reality.
One of my favourite Crystal Water Bottles at the moment is the Crystal Elixir Water Bottle by Glance at Free People .
However there are so many Crystal Water Bottle's popping up and here are some that are available to buy from Amazon.
You will know what Crystal Water Bottles is best for you because you will be naturally drawn to it.
Hashtag #spaitgirl #iamaspaitgirl when sipping on your Crystal Water Bottle at home, in the Yoga Studio or on the Go!