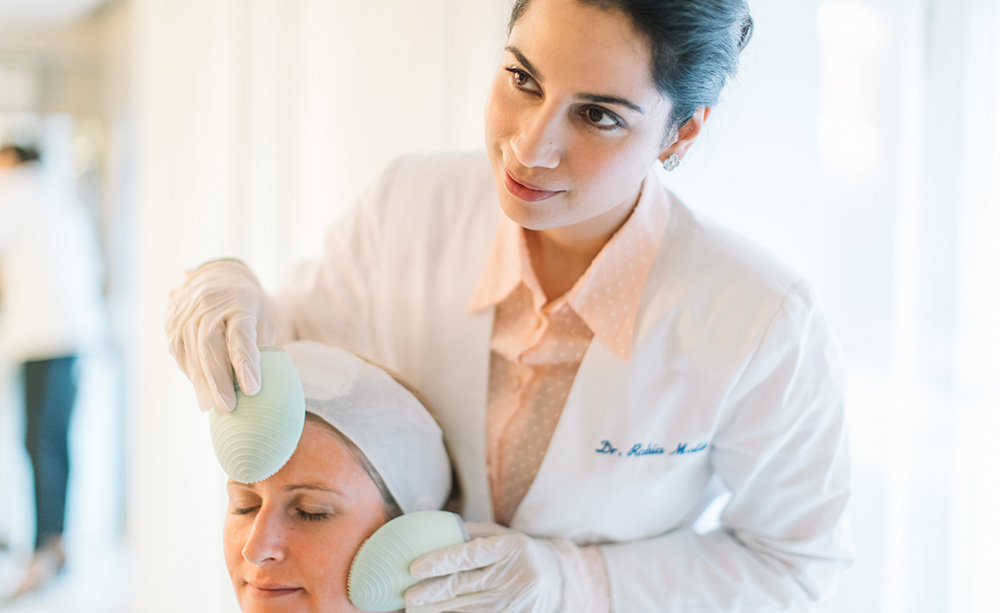 The Peel Boutique by Dr Rabia Malik is a London Express Peel Bar that offer noninvasive; 20 minute express facial peels for Healthier Glowing Skin.
Dr Rabi Malik is a GP and aesthetic doctor with a private practice based at Grace Belgravia, a female-only member's club based in Knightsbridge
The Peel Boutique is focused around facial skin peels and unlike so many chemical peels on the market, Dr Malik works with various formulations that minimize inflammation and damage to the skin.
She strives to provide peel treatments that offer minimal downtime and maximum results, whilst remaining chemically correct and her knowledge and experience gives you re-assurance for a safe and effective treatment.
The Peel Boutique offer four 20-minute, express peel treatments designed with a specific skin type in mind;
The Brightening Peel is Perfect for those with normal skin, this treatment helps to maintain a youthful and even complexion. Lighter, chemically correct peels work exceptionally well to stimulate new cell growth and to encourage healthy exfoliation and re-modeling of the skin.
The Hydrating Peel is Ideal for mature skin, this treatment helps to soften lines and hydrate thirsty skin. This is an easy and convenient treatment option for those concerned with the appearance of fine lines and wrinkles.
The Blemish Peel is for those concerned with acne and skin discoloration, this treatment includes an exfoliant to help dissolve blackheads, surface debris and dead skin, whilst decreasing the appearance of pore size and calming sensitivity and redness. Dr Rabi recommend's this treatment regularly over several months to enhance the natural healing process.
The Pre-Party Peel is for those in search of that added glow before a big event. This treatment will lightly exfoliate to brighten your complexion and will ensure that your make-up glides on. No redness, no downtime, just great results.
Due to the formulation of The Peel Boutique treatments there is no associated down-time, meaning that you can continue with your day without having to worry about the appearance of your skin.
They also have an 'Add-on Menu' that offers range of complementary treatment options.
Neck Peel: Designed to maximize optimal skin health on the neck and décolletage areas.
Hand Peel: The ultimate pre-manicure treatment, this will leave you with smoother, softer hands.
Eye Peel: The perfect treatment for those wishing to address the appearance of fine lines and darkness around the eye area.
LED: LED enhances the production of collagen and supports the skin's ability to heal. This option works particularly well with the Hydrating and Blemish Peel.
Facial Massage: Their pressure point massage is perfect for those needing a few extra moments of relaxation before continuing with their day.
Their 'at-home' product range (launching in Summer 2018), provides a dr-formulated, affordable skincare-routine that looks after your skin from a 360-degree perspective.
Dr Rabi Malik believes that peels should be chemically correct, non-toxic and correctly formulated to maximally rejuvenate the skin. When it comes to choosing the right peel, it's important that it does not contribute to inflammation or challenge organ function.
Evidence suggests that chemically correct products penetrate into the epidermal and dermal layers of the skin cells to bring about an anti-aging, healing response. This effect shields against visible signs of aging and skin damage, resulting in a visibly firmer, more youthful complexion.
The term chemically or chirally correct is used to describe products which have been specially formulated to ensure that the molecules within perfectly match the receptors in the human skin cells.
This ensures maximum possible efficacy of the active ingredients and minimum irritation. All Peel Boutique products and treatments have been formulated in this way.
When it comes to The Peel Boutique:
Lactic Acid: Most peels on the market are formulated with a glycolic acid base, which can be irritating, especially to sensitive skin. All of The Peel Boutique products are formulated from lactic acid, which is derived from milk and is a much gentler option.
Enzymes: Their products utilize both lactic acid and fruit enzymes and it is the combined effect of these two ingredients which make their treatments effective.
Strength: Their peels are professional strength; however, they don't discuss their strength in terms of percentage. They pride themselves on having chemically correct and mix enzymes with lactic acid to enable them to use much lower concentrations of active ingredient, whilst bringing about the desired results.
—————–
The Peel Boutique is located in London, UK.
To Book Your Appointment visit: www.thepeelboutique.com or email: info@thepeelboutique.com
—————–
Hashtag #spaitgirl #SetYourSkinFree when being a @Spaitgirl @thepeelbouitque  
Hashtag #spaitgirl to share your in SPA or at home self care moments
photo credits: The Peel Boutique